Practice and Financial Policies at Signature Family Dentistry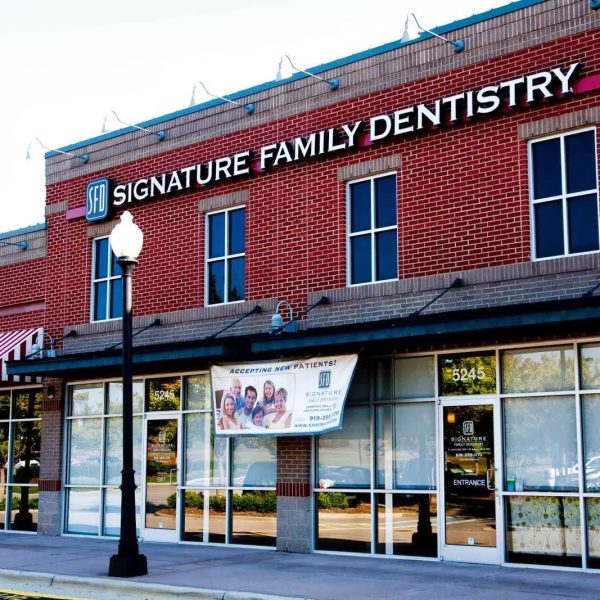 Practice Policies help us to deliver the best experience for all patients
Welcome to Signature Family Dentistry! We are happy that you have chosen us as your dental provider and appreciate the opportunity to provide you with exceptional care. We feel that the best relationships begin with the sharing of expectations and our practice's financial policies.  
When you request an appointment, time is reserved with your provider especially for you so that we may be dedicated to your care.  We understand that your time is valuable so we will see you on time. The below policies were developed to best serve all of our patients.
Late Arrival for Appointments – If you are 15 minutes late, we may need to reschedule your appointment so that we may provide scheduled patients with the care that they deserve. If you are late for two appointments, you will be charged a broken appointment fee of $50.00 and all future appointments must be paid in advance.
Change of Appointments – In the event that you need to change an appointment, please provide our office with at least a 48-hour notice to avoid a broken appointment charge of $50.00.  This fee must be paid prior to your appointment being rescheduled.
Short Notice Change of Appointments – If you cancel/change your appointment without proper notice (48 hours) twice, it will be necessary for you to pay a broken appointment fee of $50.00 and pre-payment for all future appointments will be required.
Missed Appointment – If you fail to appear for an appointment, your account will be charged $50.00 that must be paid if you wish to reschedule. 
Practice Financial Policy
Payment for Services – You promise to pay us all amounts owed on your Account (your "Balance") under the terms of this Financial Policy when billed.  If you have dental insurance, the amount you owe for services may be estimated based on the amount anticipated to be paid by your insurance company.  We will be happy to file claims for you; however, insurance is a contract between the policyholder and insurance company so we urge you to become familiar with your policy.  In the event that your insurance company does not pay your claim within 30 days or disallows a claim, payment of your Account is your full responsibility. We will provide to you a statement (your "Statement") of your Balance, which will be payable when you receive your Statement.
Pending Insurance – We may indicate on your Statement that your Balance is "pending insurance" and thus not yet payable by you.  If you have insurance coverage, we may choose not to send you a Statement until we know or receive the amount reimbursable by your insurance company.
Account Balances over 30 days – If we do not receive payment in full of your Balance within 30 days of the statement date shown on your Statement, your account will be reviewed for collection procedures.
Returned Payment Fee – If any check or other payment that you have made on your Account is returned unpaid, you will be charged a Returned Payment Fee, which is currently $35.00 and may be adjusted.  Future payments must be made with cash or credit card.
Collection Costs – If we do not receive payment under the terms of this Financial Policy and we refer your Account to a collection agency or an attorney for collection, we may charge to your Account or otherwise collect from you our collection costs, including court costs and reasonable attorneys' fees, to the extent not prohibited by applicable law.
No Waiver by Us – We may waive our right to charge a fee to your Account without waiving any other right we have under this Financial Policy including our right to charge that same fee at any other time.
Credit Reports – We may request information from you and make whatever inquiries we consider necessary and appropriate (including requesting a consumer report from consumer reporting agencies) in considering your application for an account and for the purposes of any updates, renewals or extensions of charging privileges or reviewing or collecting your Account.  In addition, we may report information about your Account to credit bureaus.  Late payments, missed payments or other defaults on your Account may be reflected in your credit report.  If you believe that we have information about you that is inaccurate or that we have reported or may report to a credit reporting agency information about you that is inaccurate, please notify us of the specific information that you believe is inaccurate by writing to us at the address above.
Billing Questions – If you have a question about your Statement or our practice and financial policies, please feel free to contact our office.  You will be directed to a dedicated Financial Coordinator that will be happy to assist you with your questions.
As used in this Financial Policy, "we," "us," "our" and "Provider" mean the service provider named above.  "Services" means any services provided by us.  "You," "your" and "Account holder" mean the person responsible for paying for services.  Payment for services is due when services are provided unless as noted otherwise above.  By signing below, you are requesting that we establish an open account for you (your "Account") as an accommodation to you for the tracking and payment of amounts due and you agree to the terms of this Financial Policy.
Failure to comply with any of the above policies, repeated occurrences of missed appointments, failure to pay for agreed-to services, or disrespectful behavior to any clinician or staff member may result in patient dismissal from the practice at the discretion of Signature Family Dentistry